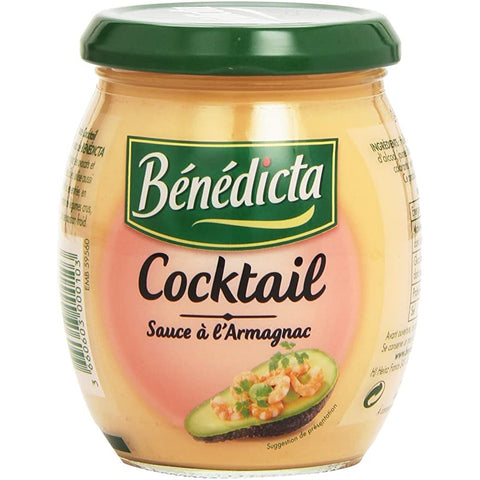 Chanteroy
Bénédicta - Cocktail sauce with Armagnac - 260gm
Bénédicta is a leading company in France for ready made sauces.
Cocktail sauce with Armagnac Bénédicta is ideal for avocado and shrimp. It is also used in cocktails and appetizers, to accompany raw vegetables, salads or cold fish.
Ingredients: Rapeseed oil, water, tomato paste, vinegar, egg yolks, sugar, Armagnac (2%), modified starch, coloring (paprika extract, grape anthocyanins), salt, flavor.
Frequently asked question
We delivery Thursdays & Fridays. Shipping Nationwide takes 2-4 working days. Pick Up available in London.
For more info check our shipping policy.
Do you have problems with our products? Contact us to check your eligibility for a return.
For more information check our returns policy.
We work with the best couriers to protect our products
Problems with our products? Contact us for a return request
Pick Up Available Wednesdays,Thursdays & Fridays between 3pm and 6pm
Secure payments protected by SSL encryption